There's an easy way to repurpose old cabinet door. Here's how you can DIY a beautiful sign from your existing kitchen cabinet doors.
I found this cabinet door for free on Facebook. Someone was getting rid of their old kitchen and they had this one door left. Perfect as I knew I had a door makeover challenge coming up!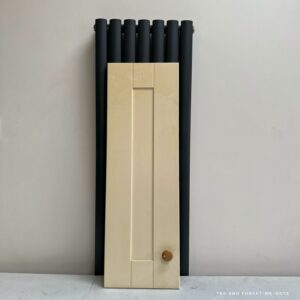 This post is a collaboration with some talented friends who have done their own cabinet door makeovers. Please also check out their creations at the bottom of the post. Let me know which your favourite is!
Thank you to Dixie Belle for sponsoring this post.
This post includes gifted products and affiliate links so you can easily find the products I use myself and recommend to friends. If you purchase these products, I may earn a small commission at no extra cost to you.
How to repurpose an old kitchen cabinet door
I started by removing the knob and hinges so that the door would lie flat on the table.
Then I cleaned it with White Lightning and rinsed it with fresh water to remove any leftover soap. Fortunately, it was pretty clean.
So, naturally, I made it a bit dirtier by sanding it. I did this with a 220 grit sanding sponge, just to rough up the surface.
I then used a tack cloth to wipe back the sanding dust. Tack cloths are a slightly sticky, netted material which is great at picking up little bits of dust.
Staining the cabinet door
My goal was to create a rustic-style sign. So I needed to change the yellow paint to something a bit more earthy and natural.
Dixie Belle has just released several new stain colours, including this one, American Honey. This is in their No Pain Gel Stain range.
I applied it with a wide foam brush and wiped it back after a few minutes with a paper towel. This was the first coat. It was already giving the plain door more character.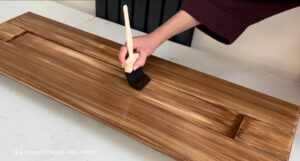 You can see how it got the name American Honey. How beautiful does this look after one coat? The bottom is where I'm applying a second coat. In the end, I chose three coats to make it a really rich brown.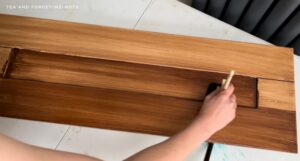 This was my first attempt at using a wood graining tool. It's a tool with ridges like tree rings.
How to create a faux wood effect
Firstly, you apply paint or a stain to the surface. This is the colour you will be creating the grain with. Then by dragging the tool through the paint, it creates grain-like patterns within the wood.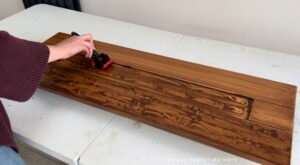 As you rotate the tool, it creates the knots. I probably added a few too many than would occur naturally. It was too much fun to play with! But I knew that this was just the background and would be well covered, so I wasn't concerned.
What a fun tool to add some texture!
Want to know 23 great DIY tools? Get the list!
What can you make with old cabinet doors?
I knew I wanted to make a sign. So I went to my trusty Cricut to create a stencil. This is what I use my Cricut for 90% of the time.
This was a recent Cricut project on a really fun nautical-themed makeover.
For the quote, I used the words of my uncle who passed away this month. In 2021 for a graduation class video, he was asked what the secret to a happy life was. I loved his words when I heard them, so it felt fitting to use them for this.
You'll see there's an overlap where I duplicate one of the words on each line. I deliberately cut out the same word twice. That way I know that the stencil is straight, by lining it up with the word before.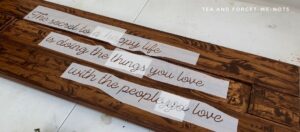 I stuck the words down with stencil spray. This keeps them in place long enough to paint, but are still easily removable.
The key to the paint not bleeding out of the stencil is having very little paint on the sponge. So, I dab off the excess onto a plastic lid until there's barely any left. I painted the words using a sponge dabber and the grey/white paint, Oyster.
For a better look at Oyster, it was the main colour of this chest of drawers makeover.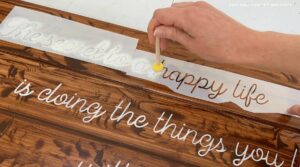 Cabinet door decorating idea
To add some colour, I chose this transfer called Sunflowers. Which comes as four sheets of different sunflowers. I laid them all out to choose which ones would suit the space the best. It's a bit like a jigsaw trying to see what the best combination is.
In the end, I chose two multi-sunflower pieces for both sides. These filled out the space nicely. Then I chose two additional single sunflowers for each side. For the left, I chose ones that leaned to the right so they naturally surrounded the text.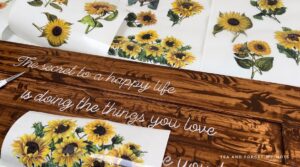 Applying transfers is really simple
I took off the wax backing which is what stops the transfer from sticking to other things before it's in place. Then, to attach it, I used the ruler-like tool to firmly rub it. You can see whether it has been attached by peeling up the plastic. If any of the image is still on the plastic, you can lay it back down again and rub it more.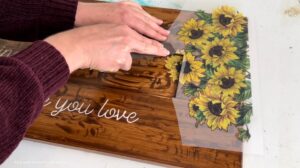 Where there were ridges on the door, I cut that section of the transfer so that it lay in the right place. I also continued the image around the side so that it looked more finished.
It's easy to layer transfers on top of each other. Personally, I don't always like it when transfers are just floating in the middle. I think it looks more natural by layering them and having them come in from the sides.
Do you need to seal a furniture transfer?
Some transfers need the paint or stain sealing before it's applied. For others, you need to seal on top of the transfer only. It depends on the brand.
But for this transfer, it only needs sealing after it is applied. So I did two coats of Clear Coat in Flat to protect the stain, the paint and the transfer. As a decor piece, it doesn't need heavy-duty protection so two coats should be plenty.
Recycled kitchen cabinet doors – the final result
And the final piece, signed, sealed and delivered!
What a transformation. It's a long way from the tired yellow door that arrived. I really love how this turned out. The rich brown stain and wood grain texture complement the bright yellow sunflowers beautifully.
It's now a lovely piece of decor. Made more important by how special the words are.
Also, if you'd like to see this transformation take shape, please check out the short YouTube video.
Please don't forget to check out the other makeovers below and let me know which you like best. Or if you're here from another artist's blog post, thanks for stopping by.
If you liked this post, you might also enjoy this transfer project…
Pin it for later – repurpose old cabinet door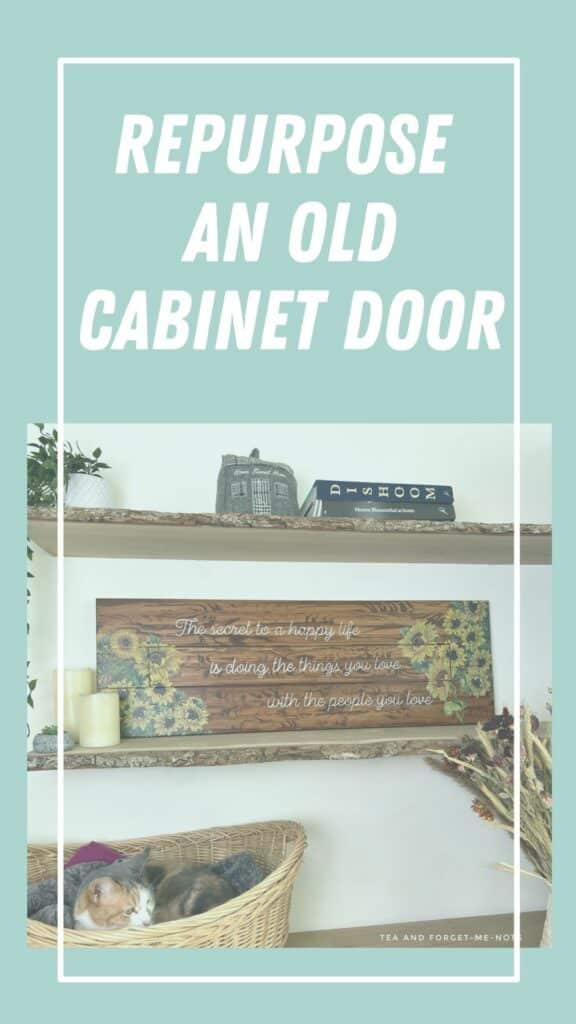 Don't forget to see what my friends are sharing today…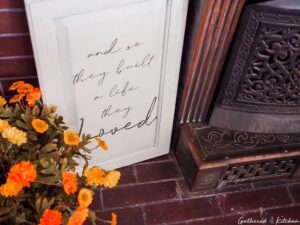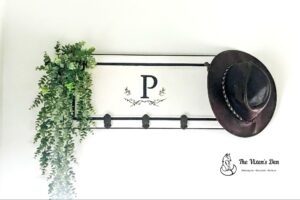 Repurpose old cabinet door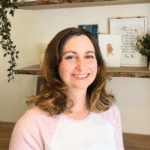 Rachel started painting furniture in 2018. She created this site to share her favourite transformations and the many tips she has learned along the way.